– VENDORS AT THE VINTAGE MARKET –
With hundreds of vendors and thousands in attendance, each Vintage Market event is a unique experience. This is not a traditional flea market – our vendor booths look like mini boutiques! If you have any questions about being a vendor or The Vintage Market events, visit our Q&A page.
Hocus Pocus - October 7th & 8th
Home for the Holidays - December 17th
Hatton Vintage Farmhouse
Found Our Haven
Not My First Rodeo
Mimi's Shabby Chic
Cerca Trova Vintage
Giggles
Inland Pirates Vintage Treasure Hunters
Jody's Kidz
Wizard of Oddz
Scaredy Cat Primitives
Kit & Caboodle Coop
Izzy Lu Designs
Tamara's Timeless Treasures
Rags to Rugs and More
Pop Fizz Klink Designs
Lydia's Vintage
Stinson Soldering Co.
Macie + Me
Beautiful Bambini
Cool Critters
Wittle Wonsies
AK's Hidden Gems
Earth, Wick & Fire
Walkers Hollow
Scentsy by Stephanie
H2Design Candles
19th & Lindbergh
Simply Gourmand
Bliss Haven Farm
HomeStead Honey Bee Farm
MP Life is Sweet
Anne's Raspberry Farm
Grandma's Candy Dish
Re-Invented Treasures
Rachel's Rehab Attic
Rediscovered Furniture
Maybee Farms Vintage
Black Market Vintage
Mom's Enterprises
B.B. Rays Sign Shoppe
Tin Barn Studio
Toad 'N Turtle Studio
Raspberry Lane
Artsy Fartsy String Art
The Rusty Wheelbarrow
Cowgirl Dreams Co.
Avabelle Boutique
Dallas & Dottie Boutique
Kari Wolfe Designs
Vintage Charms
One Little Monkey
SweetPea Designs
The Little Vinylsaur.
Dad's Stained Glass
Love, Smash, Embellish
Deaf Dog Apothecary
Lounies Soap Co.
WW Farms
Mae's Body Blends
Green Bubble Gorgeous
A Serendipity Cakery
Lula Bre's Sweet Eats
Steve's Gourmet
NeNe's Sweets
Cabin 7 Coffee
Weidman's Vintage Mercantile
Motor City Salvage
Country Comforts
The Plaid Herb
The Primitive Roost
Annabella's Closet
CoCo Grand
Ferosh Chick
Detroit Archive Co.
Upcycled Uniques by JHM
Crystalline Dream
VadaMade
Joy Sparks Designs
Vintage Button Jewelry
Tin Roof Rustics
Buy the Change
The Crooked Dollhouse
Ooola-Nique Designs
Rusted Nutts
Tulipatron
The Charmed Gourd
Witchy Sisters
Stray Sheep Co.
Sadie Jane's
Miss Abbie's Pet Treats
Rock n' Roll Nuts
Sub Rosa Tea
Caramel YumYums
Little B's Bakery
Detroit Mini Donut
Nick & Ninos Street Food Truck
Vince's on the Go

– Cabin Fever –
March 18th 10am-5pm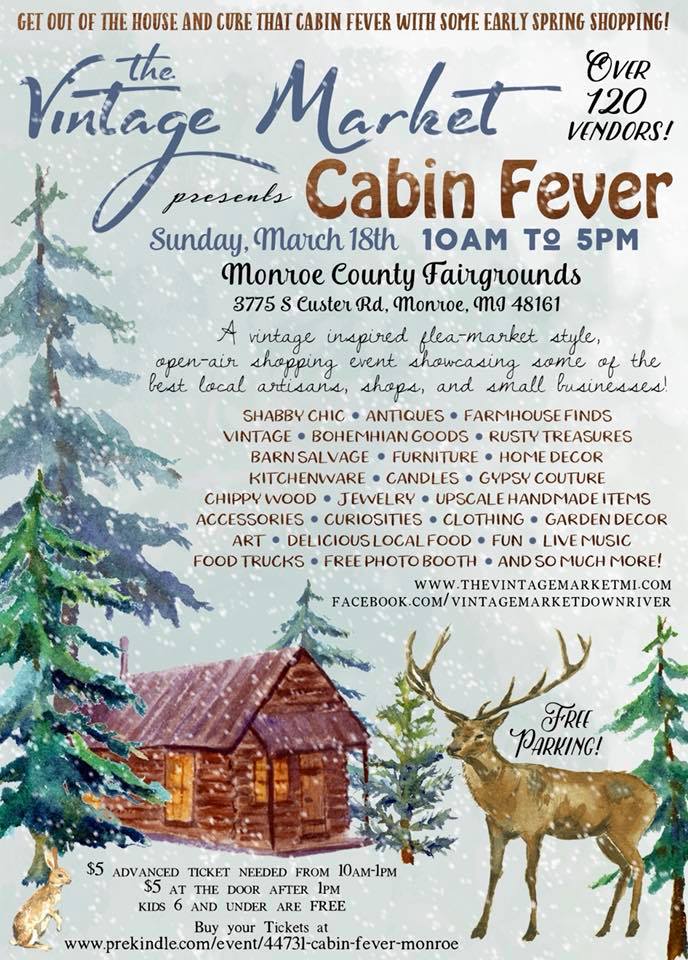 – Gypsy Jamboree –
June 10th 10am-5pm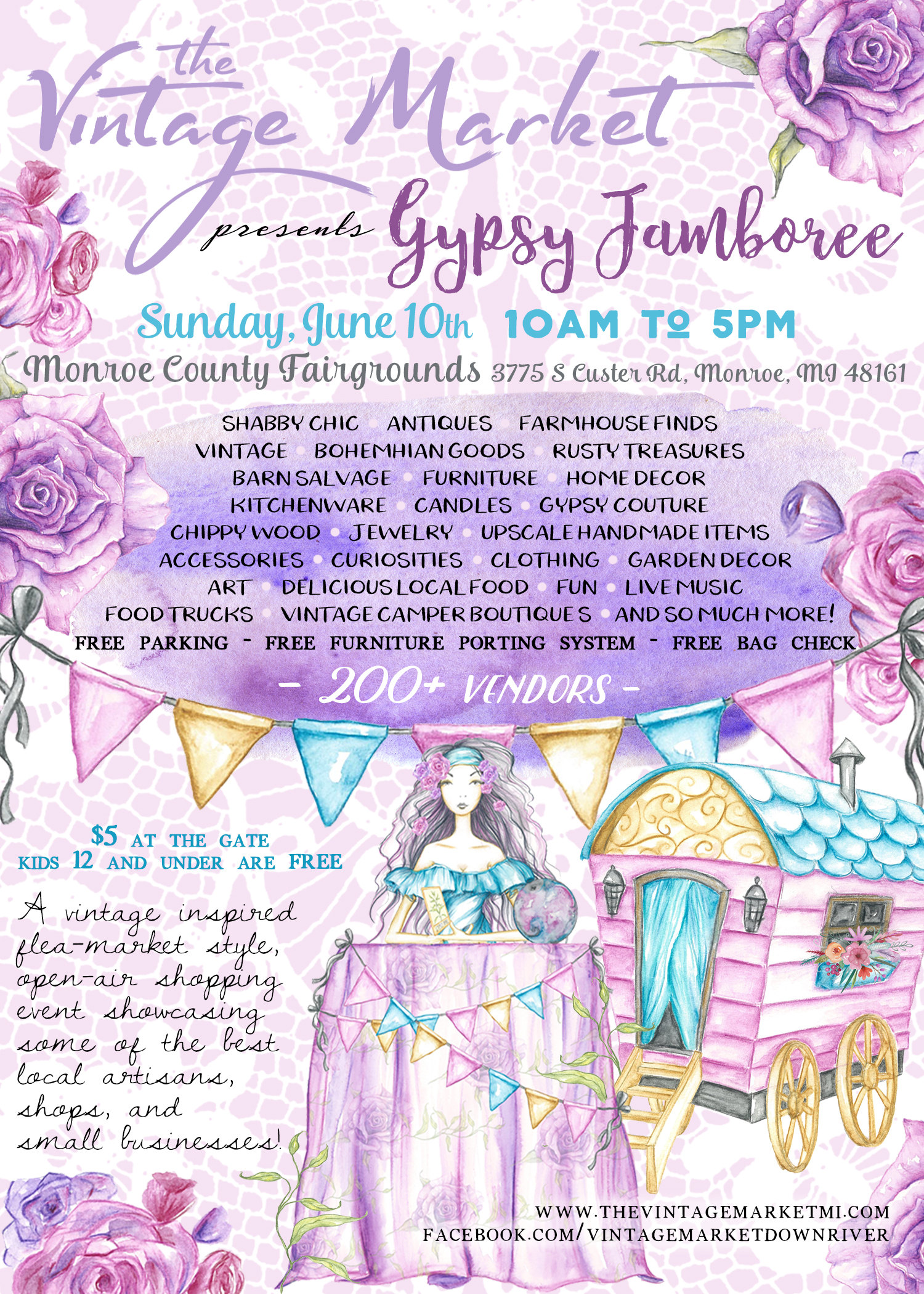 – A Midsummers Dream –

August 19th 10am-5pm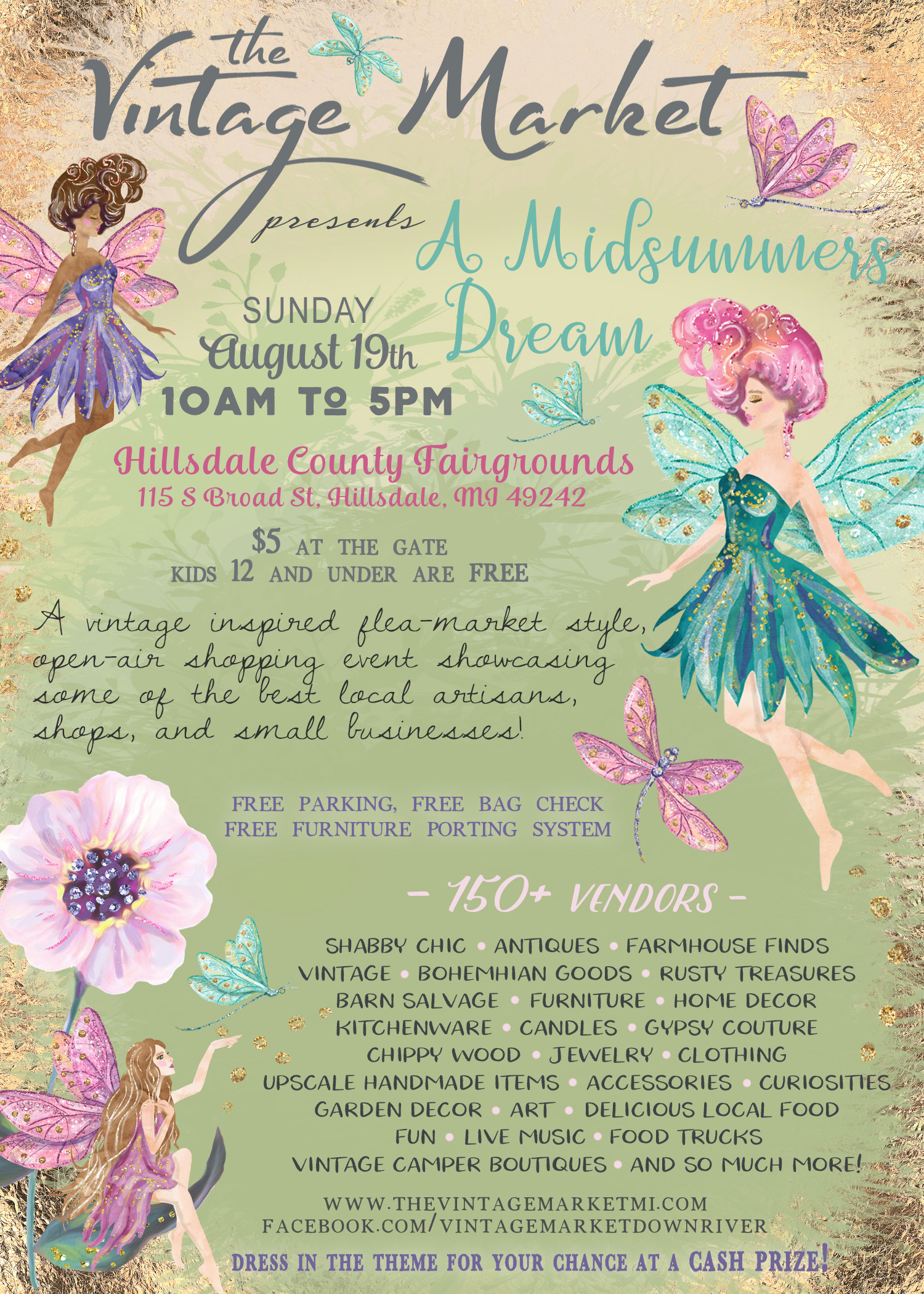 – Fall Y'all –

September 9th 10am-5pm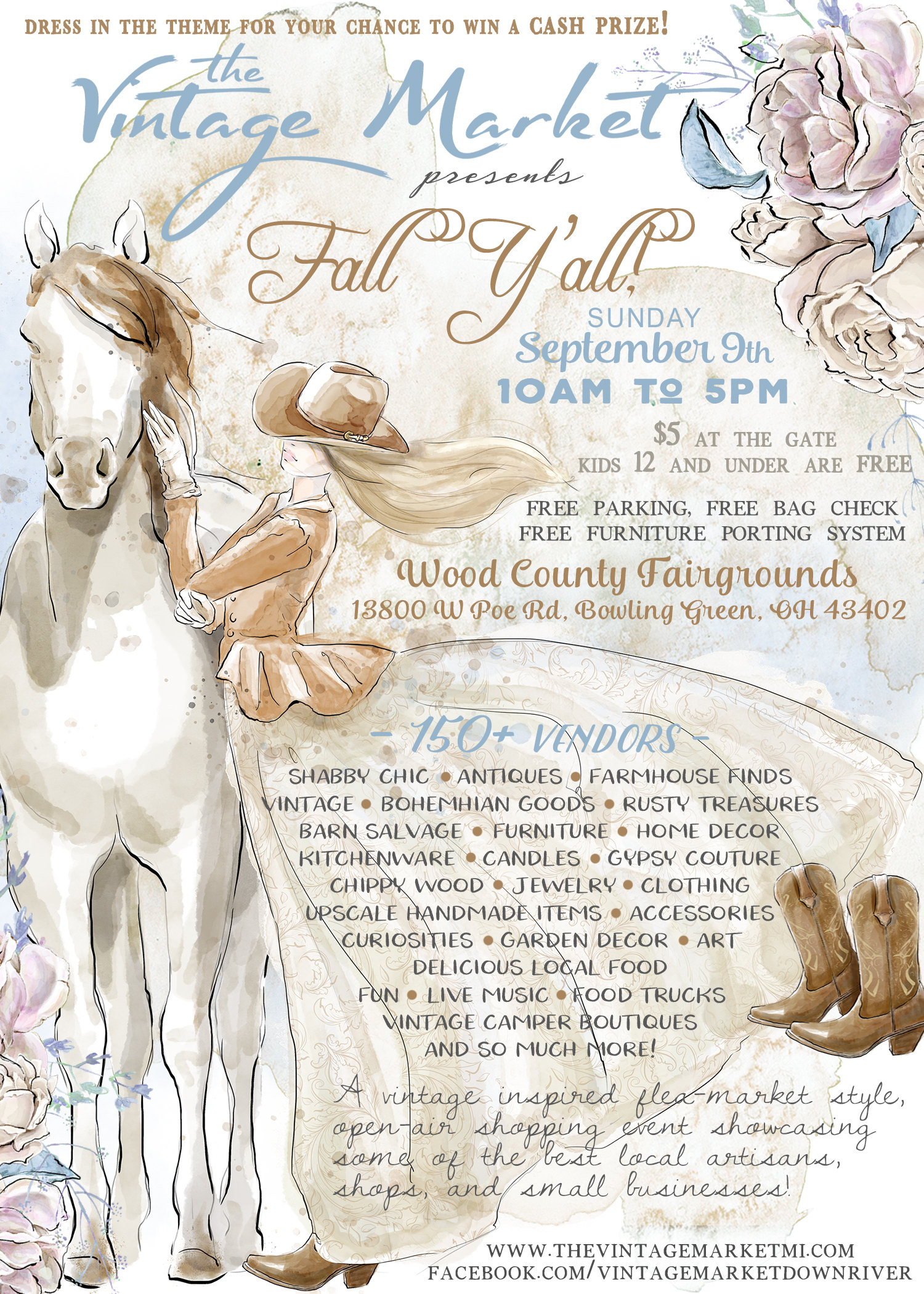 – Haunted History –

October 7th 10am-5pm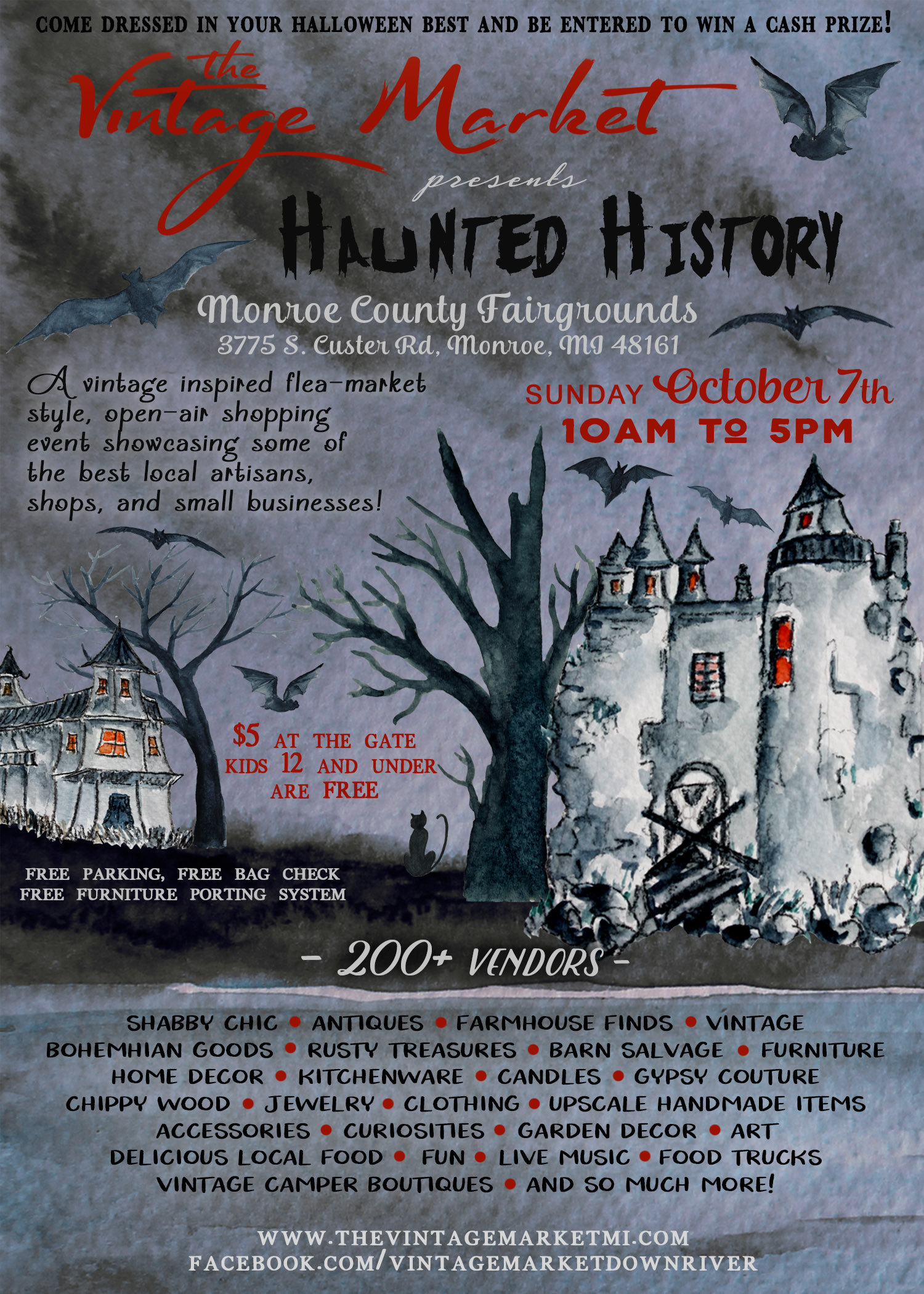 Save Our 2018 Market Dates!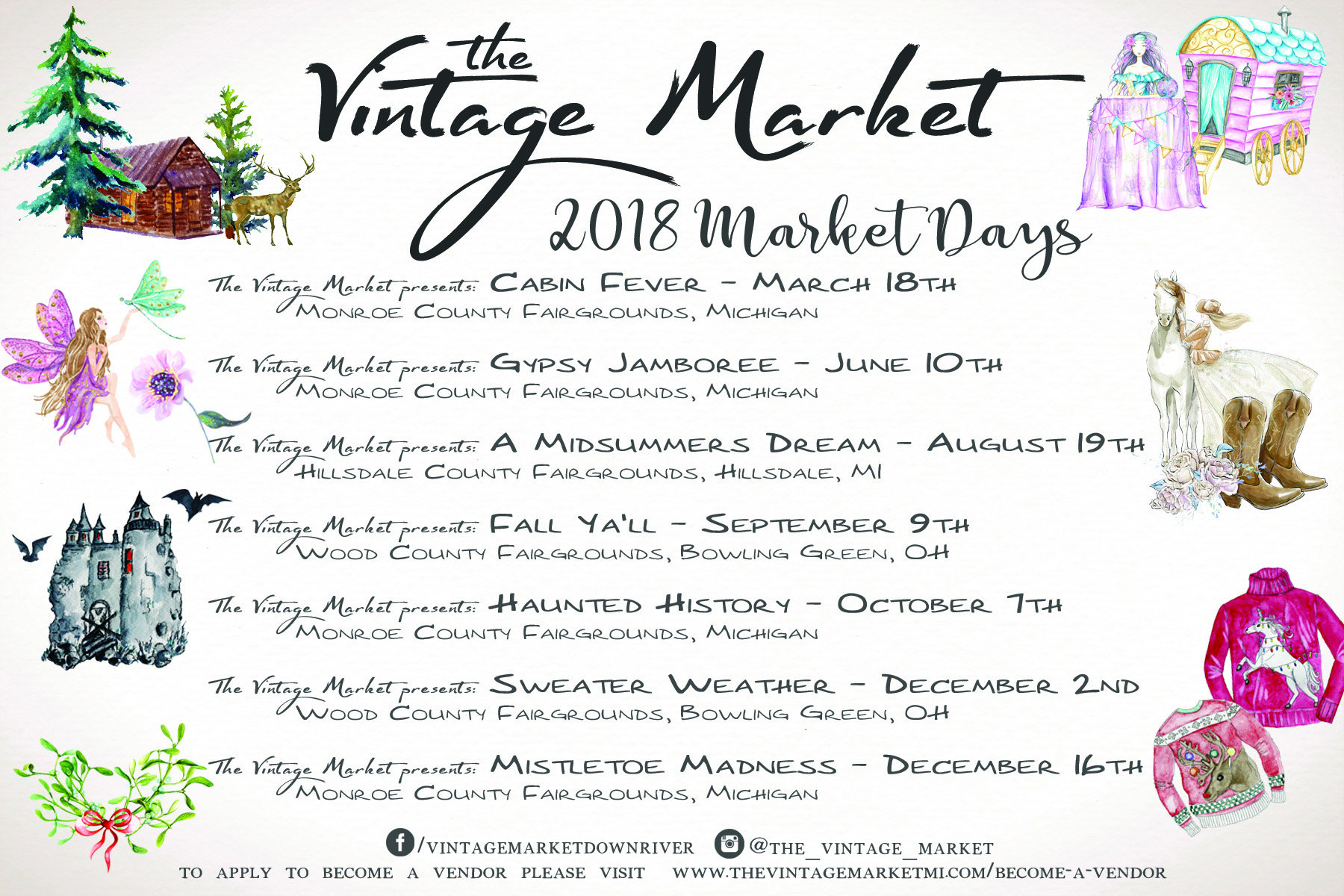 Backroad Divas Present:
Down on the Farm!
June 10-11 | 10-5pm
The Vintage Market, LLC
3775 S. Custer Rd
Monroe, MI 48161